I can always tell that spring has arrived when I no longer need an alarm clock because I am awoken by the sweet melody of singing birds. This just may be the best part of spring! I currently have a single birdhouse in my backyard but I have been wanting to add additional houses to offer different food and attract a variety of birds. I want the house to be a comfortable rest stop for the birds but I also need it to conform to the rest of the backyard. After some thought and research I realized that if I add some succulents to a neutral birdhouse it could create just the look I was going for!
I always prefer to roll my sleeves up and get a little dirty if I have the possibility of getting the results I can't find anywhere else so I'm deciding to build the birdhouse myself. Here are some of my inspirations:
I love the idea to including the Burrito Sedum in this collection so that as it grows it will trail down the top of the house.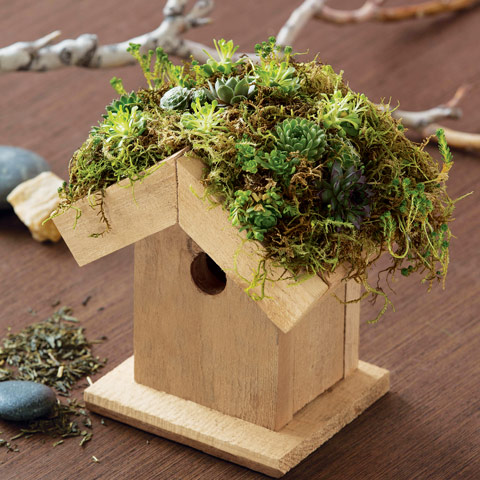 Maybe starting off small like this petite birdhouse may be the way to go!
This unique birdhouse caught my eye however I would want to fill it with only succulents, no other foliage.
Hopefully I haven't bitten off more than I can chew. Get inspired and build your own. There are so many different varieties of succulent out there that I am sure you will find some that fit your style.
Wish me luck!